web69
8th October 2022
GET READY to DROP IT like it's HAWT - the next web69 is around the corner and she's about to go AWFFF. For this juicy edition, we're gagging to bring you UK heart-throb James Indigo, Afro-Pasifika queen Lady Shaka, French hotness Urumi and local icon Hanaby for a bop for the books!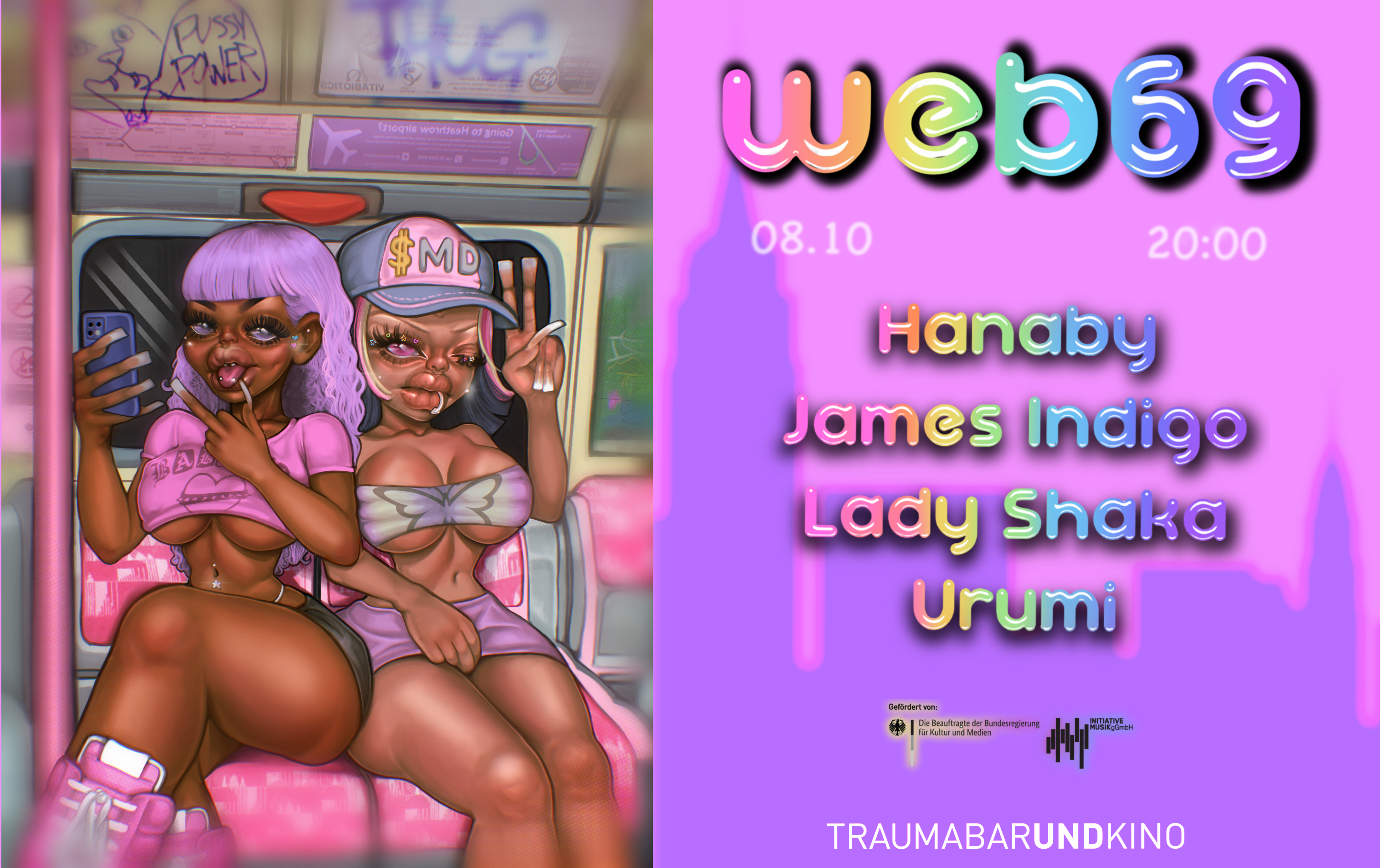 James Indigo
Our hottest tip of the year is queer icon: James Indigo. Hailing from Birmingham UK, James Indigo is changing the game with natural performing talent, fierce vocal presence and out-of-this-world visuals. Come and catch him MC over an array of galvanizing club sounds from 4-to-the-floor to trap and hyperpop, and in looks hotter than blue flame. Indigo's milkshake will bring all y'all to the club for a nasty lil bop where his freaky hooks will leave you chanting along as an Indigo-believaaa!
James Indigo -Daddy's Coming Home
James Indigo - Cxntour
Lady Shaka
Kia Ora, Berlin City! Lady Shaka's BEEN re-indeginising and challenging the mainstream by leading a vibrant generation of young Pasifika DJs and producers. Relocating to London, she started Pulotu Underworld in 2019, the city's first club night that celebrates Pacific Island culture, while regularly performing killer sets for collectives and club nights in the UK and New Zealand — PXSSY PALACE, FILTH, Misery, and Juicebox. Her physical and high-energy style incorporates her background as a dancer, choreographer and MC. This Afro-Pasifika femme queen will lead you to full-throttle movement on the floor, making you find joints in your body you didn't even know you had!!
Urumi
As part of her Normalize French Techno EU Tour, DJ and producer Urumi brings her bouncy palette of dance music to our club room for her debut Berlin set. Leading an all-female collective 'Girls Do It Better', her addictive mixes are loaded with rigor and femininity. Urumi creates her own universe around her music through video game character looks and Y2K anime femme fantasies. Her recent banger 'Bitch Mood' will blow your fucking brains out like a smoking barrel!
Hanaby
⅓ of Local Juice Soundsystem, ½ Woman ½ Amazing, club icon Hanaby is known to bring the function into a frenzy. Quickly becoming the most sought after selector in the 030, we couldn't be more excited to welcome Hanaby to open the night with a BANG!
Hanaby - Local Juice Soundsystem Set
Gefördert von der Beauftragten der Bundesregierung für Kultur und Medien und der Initiative Musik
www.kulturstaatsministerin.de
www.initiative-musik.de