THE FAIREST PERFORMANCE PROGRAM Falling Off The Face Of The Earth CYCLE 2 TEASER 1
9th February 2023
concert
performance
exhibition
THE FAIREST PERFORMANCE PROGRAM
Falling Off The Face Of The Earth CYCLE 2 TEASER 1 
8 PM Doors
9 PM Göksu Kunak
10.30 PM BASE + TCV
FREE ENTRY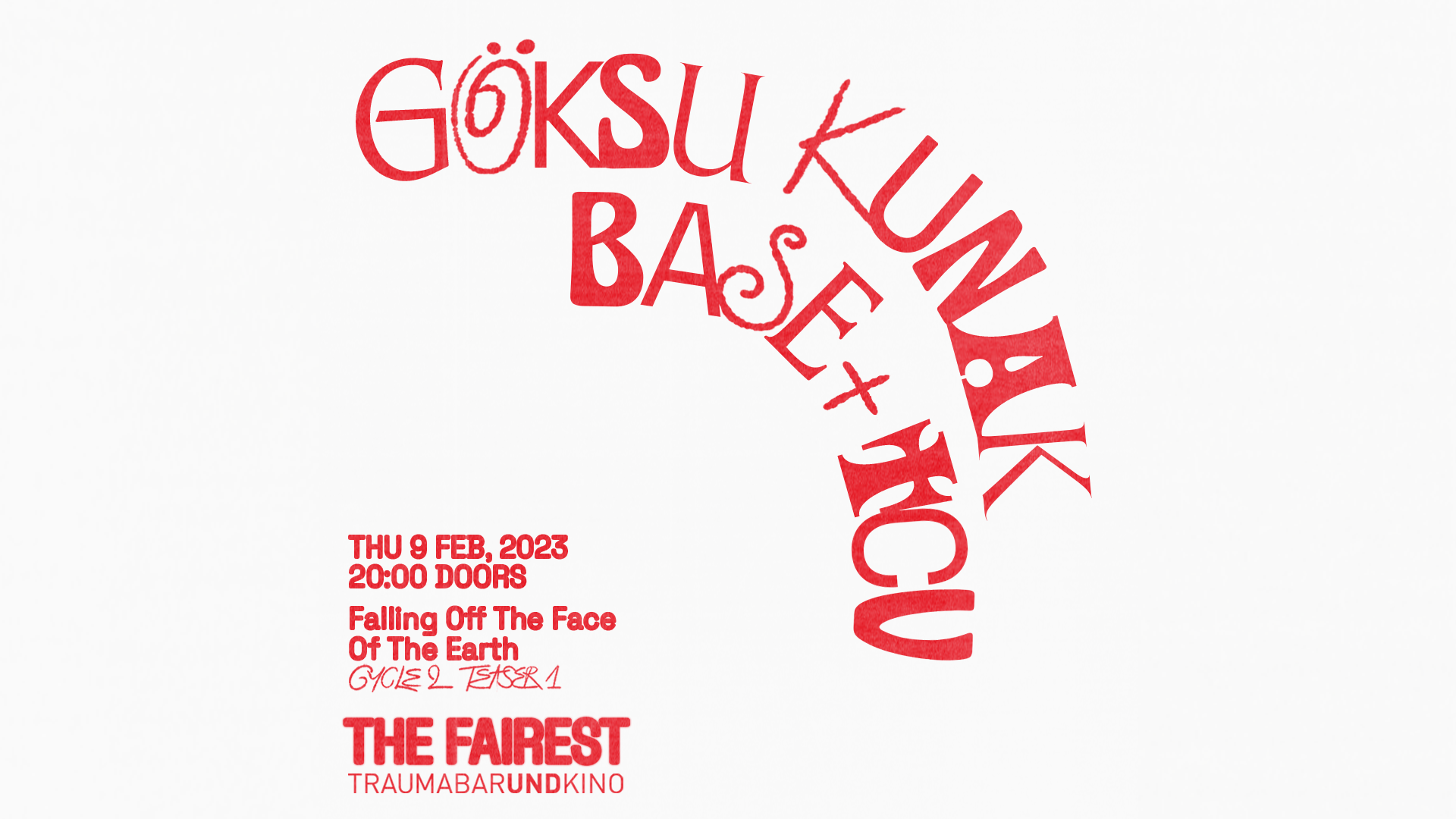 Graphic design @vivienhoffmann
Göksu Kunak (Ankara, 1985) is a performance artist/performance maker and writer based in
Berlin. Göksu's interest lies in queer methodologies (particularly chronopolitics) and hybrid texts that deal with the performative lingo(s) of contemporary lifestyles. As a non-native English writer, their texts play with multilingualism and syntax. Influenced by Arabesk culture and late modernities, Göksu imagines new situations out of real encounters that point out the problematics of hetero-patriarchal structures. Orientalism, self-Orientalization (the perception of the 'Eastern', and how the Eastern sees themselves through this construction), as well as Eastern masculinities in relation to state governmentality; queer camouflage and self-censorship are other interests of Göksu.
@goeksu_kunak
—
BASE (aka Seba Stolarczyk) is a multidisciplinary artist who distills performance, music, installation and fashion into a singular creative outlet, HOUSE OF BASE. As part of The Fairest curation, BASE will debut an intimate « live act » performance in collaboration with Berlin based music producer TCV. The performance is an allegory of personal introspections and outgrowths centered around an inanimate custom-draped scooter, anchored in sonic works and shattered lights. The piece comes as an immersive experience bridging installation, fashion and music towards a collective dialogue that navigates through experimental pop and electro-acoustic resonances to meditate personal realities.
@houseofbase @tcvbln
woof, 2022. Courtesy Göksu Kunak

AW22
HOUSE OF BASE AW21-22 Collection. Video and edit by Bernardo Martens Music « trace » by @houseofbase + @tcvbln