THE FAIREST Falling Off The Face Of The Earth CYCLE 2 TEASER 1 Closing
25th February 2023
exhibition
performance
concert
9 PM Doors
10:30 PM - SALÒ (live)
11:30 PM - NAKED (live)
00:30 AM - MDSM (DJ)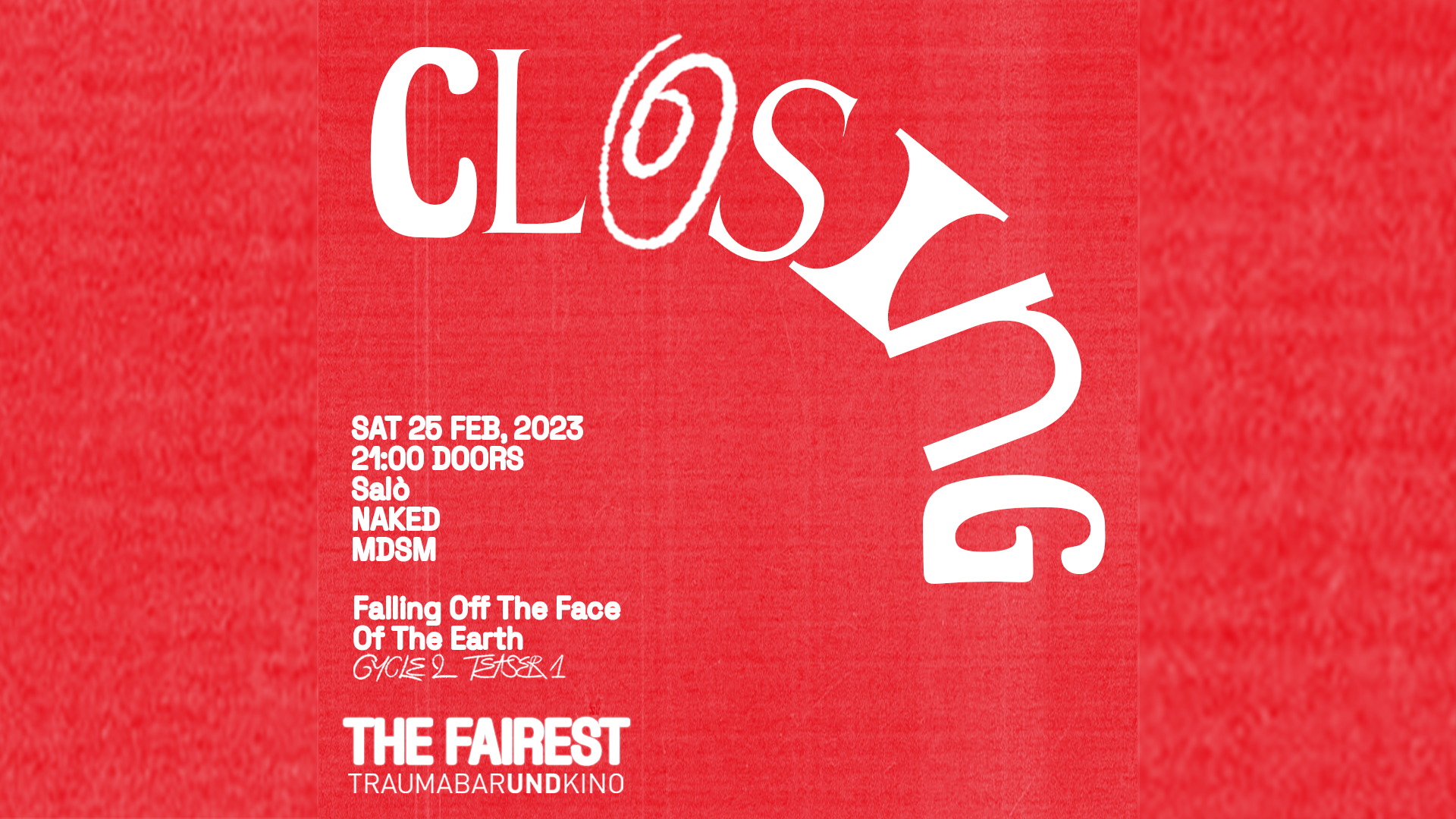 Graphic design @vivienhoffmann
EXHIBITION
Bianca Hlywa
EXPAT ( Mykki Blanco & Samuel Acevedo )
George Jasper Stone
Lauriane Daphne Carl
Shamiran Istifan
Suzannah Pettigrew
Theodolus Polyviou
CLUB
SALÒ ( live )
NAKED ( live )
MDSM
NAKED is an alias of London / Berlin - based Agnes Gryczkowska whose music juxtaposes raw explosions of hard industrial rhythms, noise and metal screamo with arias and monophonic lamentations. NAKED's confrontational presence during live performances shifts between extremities: from masochisms to submission, from pain to pleasure, from violence to softness. The feeling of fear and vulnerability morphs into that of empowerment, anger and hedonistic pleasure.
SALÒ is the child of a new dreamy and decadent Roman Renaissance. A perfect blend of noise music, oniric atmospheres, baroque costumes and performance, combining psychedelic scenarios to mythological symbolism, rituality and rural iconography made of fairy tales and dreams to hypnotic scenes.
Falling off The Face of The Earth
Group exhibition
4 – 25 February, 2023
On the occasion of their residency at Trauma Bar und Kino, THE FAIREST is proud to present Falling off the Face of the Earth, a group exhibition that explores how a collective feeling of unearthing permeates contemporary art and performance. From existential dread to the hyper-saturated sense of self, from sensory media overload to what seems like a world in decay, each artist reckons with various current issues that are driving factors in shifting and shaping our present day. By bringing them together, Falling off the Face of the Earth seeks to map a structure of feeling. When this collective suffocation chokes all language before it can be articulated, a new generation of young artists thus conjures a visual language to unravel our sense of now. Dumping the blind ignorance of truth-telling narratives, they favour a multitudinous choir of situated voices, collectively reverberating the question of what it means to live today.
Works by Lauriane Daphne Carl and Shamiran Istifan explore depictions of gender through the lens of mass media and internet culture. Istifan plays off religious stereotypes as well as intimate tropes of sexuality using a decisively sensual aesthetic reminiscent of girlhood, whereas Carl uses the proxies of the soap-sculpted scapegoat and the colossal female bodybuilder as dialectical counterparts representing gendered power imbalances under capitalism. George Jasper Stone and Suzannah Pettigrew have collaborated to create an installation that blends the boundaries between virtual and actual spaces. Stone's CGI animated video, in which fantastical narratives create an expanded sense of reality, is situated within the specific sculptural architecture by Suzannah Pettigrew, thus negotiating the viewer's embodied
experience between the real and the fictional.
Theodoulos Polyviou equally explores the actualising potential of immersive technologies in his work transmundane economies; where reconstructed fragments of a 13th-century monastery are complimented by VR technology to virtually recreate the ruin, collapsing past and present. At THE FAIREST, the reconstructed sculptural fragments are mounted as wall pieces, becoming relics of a past cosmology and therefore exposing the passing of time, as well as inevitable decay. Concurrently, Bianca Hlywa's work focuses on non-human temporalities altogether, as her installations or video works composed of live symbiotic yeast cultures thrive, transform and decay throughout the course of the exhibition. In the performance duo's very first installation work, EXPAT (Mykki Blanco & Samuel Acevedo) creates a carnivalesque spectacle, dripping with systemic dystopia, in which decolonised language practices become the base for interrogation into Europe's colonial foundations.
Falling off the Face of the Earth brings together not only the eight exhibited artists and artist-duos but also specific live acts and performances, facilitating a dialogue between live art, visual art and club culture. As both Trauma Bar and Kino and THE FAIREST seek to nurture experimental practices, the events will range from live music sets to poetic concerts, sound healing sessions to performance art. Together, they complement the exhibition in its aim to create an immersive, emotional space in which subjectivities can be negotiated. Here, states of being are not fixed but permeable, not predetermined but aggregated, where viewer and actor synthesise.
Text by Dara Jochum
THE FAIREST (TF) is a new hybrid curatorial platform for young, emerging, or independent artists and creators to have direct visibility in the interdependent art ecosystem and market. Founded in 2021 by curators Eleonora Sutter and Georgie Pope, TF actions the abundance of relevant, urgent and experimental practices, under matched by exposure. TF facilitates open access for artists and the public, with artists featured regardless of medium or gallery representation.
Committed to freshness and fluidity, THE FAIREST is a place for discovery. Teaser shows and concentrated projects across a yearly cycle build up the artistic selection and spirit of the annual festival during Berlin Art Week. Project titles become a political tool, making a call to action and claim the value explored as the exhibition discourse. Lively, immersive and sensorial environments are created with sound, participation, performative interventions and art mediation.
THE FAIREST challenges heteropatriarchy and homogeneous norms, implementing a sustainable, community driven system as the mission basis.
The show is curated by The Fairest - Eleonora Sutter and Georgie Pope.
If your personal situation doesn't allow you to afford a full-priced ticket, please contact us directly: reduced (at) traumabarundkino.de
More information can be found under:
www.the-fairest.com
www.traumabarundkino.de