TRAUMA UNCLOGGED w/ PRICE
4th May 2023
performance
INSTALLATION
concert
For the first of two Thursday performances activating the installation by Anne de Vries, we welcome Swiss-Brazilian artist PRICE for his Berlin debut with seminal work 'I Try My Tongue (sequences)'.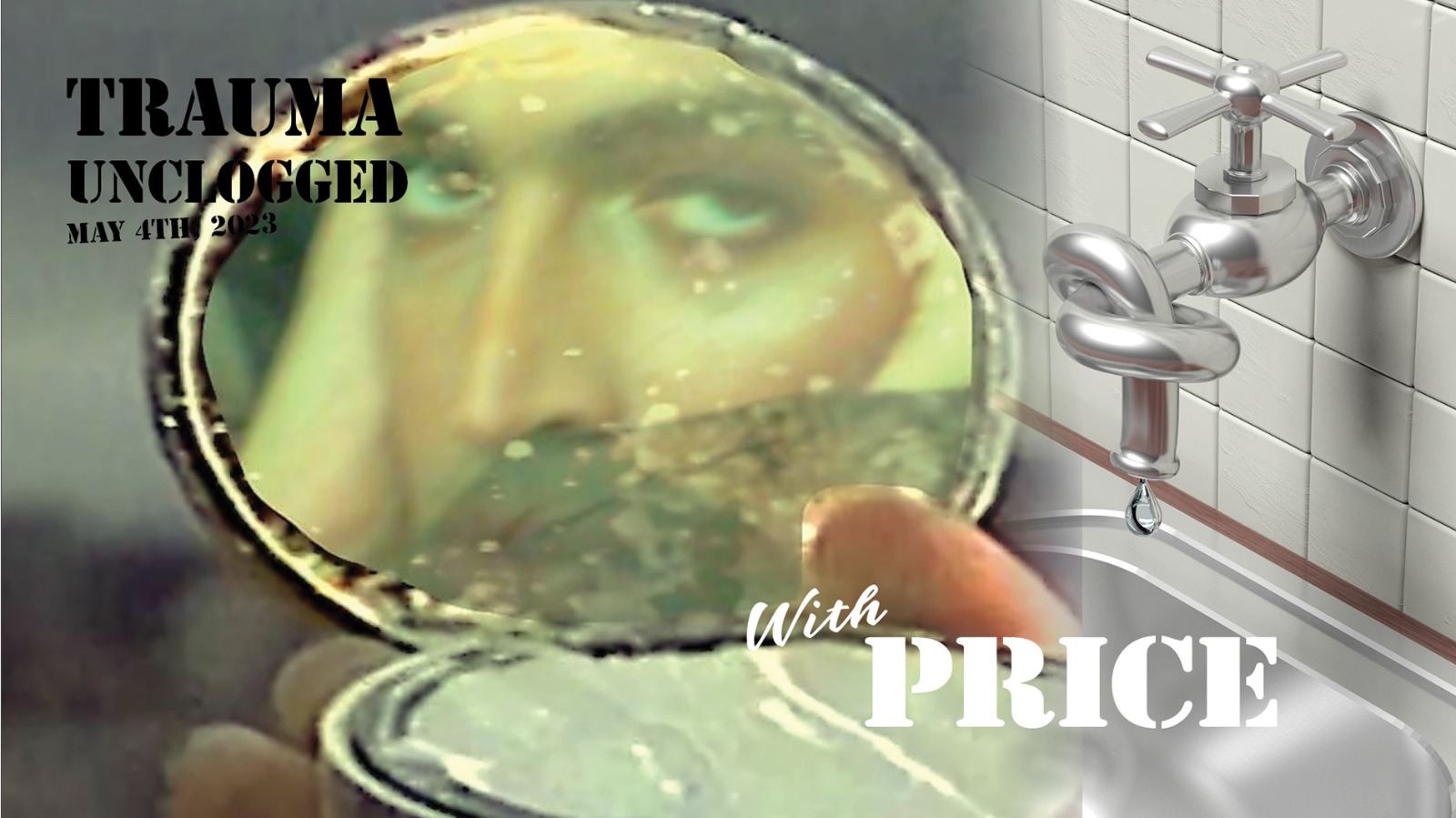 PRICE takes a gauzy approach to things. At times, those things can feel like a little too much for the moment. Then, like a hasty realization, it happens to be a little too late once that juncture is crossed. His oeuvre is adorned by such provocations, insinuating a fleeting past with the present. These moments persist through his attempts at sincerity, detected in a sudden change of mind or as inner dialogue or played out in a call-and-response. They are moments to be performed in an imagined overhead scenario. The scenario, here, is one of constant redress, like the angel and devil trope, whispering indications into the listener's left and right ear.
PRICE's self-released album titled, Little Too Late starts with a whim and arrives into a full-blown scene. The overture, 'Adjust' suggests what's to come, making amends with the little-too- something else. The ballad is alluring, opens with folkish strumming, then abruptly moves into distortion contained by well-tempered repetition. His signature vocalization is imminent throughout every track. PRICE's own practice and process in singing succumbs to expressive ciphers for the listener, something else is occurring beyond any syntactic obstruction of language. The project ends with, 'Back To Me Now' a final hint to the so-called full-blown circuit of too much, too little, and more than this.
Instrumentation is intact to accompany PRICE's voice, alternating brash projectile textures with the agile quality of string and piano-laden melodies. Lyrics appear throughout the work, only as an experiment in songwriting, layered over the previously more phonetic collaborations between PRICE and the many acts he invites into his projects. Here, for this release, he packages what has emerged from ongoing collaborations with pop singer and songwriter Cecile Believe, artist and producer MODULAW, composer and artist Tobias Koch, and pianist-composer Sebastian Hirsig. This release also features guitarist Federico Capon and a track composed and produced by Renato Grieco ('70%').
This release affectionately marks the course that each collaboration has taken, as sought-after, cast back, and a little too late. PRICE's newest nine-tracked release is a tender balancing act. In between disparities, too much, and too late, the project is wholly characterized by variety, song, and spectacle.
—written by Jazmina Figueroa
I Try My Tongue (sequences)
2022, performance 50' min
PRICE – I Try My Tongue (sequences)
by Stefa Govaart
PRICE measures reality with melody, tonal plasticity and vocal experiment, instead of lyrics. This parking of lyrics in the middle of sung English phonemes deceives the performative force of language.
This vocal performance pays tribute to those who did not grow up speaking English but were nonetheless bombarded with it. PRICE is a child phonetically repeating what it doesn't understand. But the child isn't innocent, it is contaminated from the start. Attempting at becoming proficient in the vocabulary of hegemony, the child is intruded upon by enigmatic signifiers it never chose. Its universe is embedded in an ontology of performance operating wholly inside economies of reproduction. Equivocating between willful performance, enigma and oppression, the child's inner and outer cannot be resolved through the instantiation of a dialectical synthesis: there is no end to being undone in the act of doing. No poison of true sentiments makes die the evil source of an infection from which sprang the golden idioms and premium syntax that pierce through the child. Causal accounts of sequential determination fail to account for the subject's emergence. There is no free child that first is and is then, having become an adult, repressed. Repression is
not performed by the subject but coincides with its emergence.
If the externalization of the deepest of bodily cavities including the vocal chords is absolute––if the negativity of repression makes you you––then it is the internal contradiction of true sentiments hat PRICE
cannot own but can share.
theworkofprice.bandcamp.com/album/little-too-late
This performance is presented in conjunction with the immersive installation TRAUMA UNCLOGGED by Anne de Vries, curated by Madalina Stanescu.
Trauma Bar und Kino is pleased to introduce you to Anne de Vries' latest art project TRAUMA UNCLOGGED about the connections between clubbing and plumbing. Anne has dismantled and flushed our venue thoroughly before a drastic reconfiguration. We hope you appreciate this new and more open layout, as well as the events we have prepared to complement this unique setting.
If your personal situation doesn't allow you to afford a full-priced ticket, please contact us directly no later than 1 day before the event: reduced (at) traumabarundkino.de