LustSickPuppy vs. Izzy Spears
27th May 2023
The double bill of the year featuring America's most wanted…. LustSickPuppy vs. Izzy Spears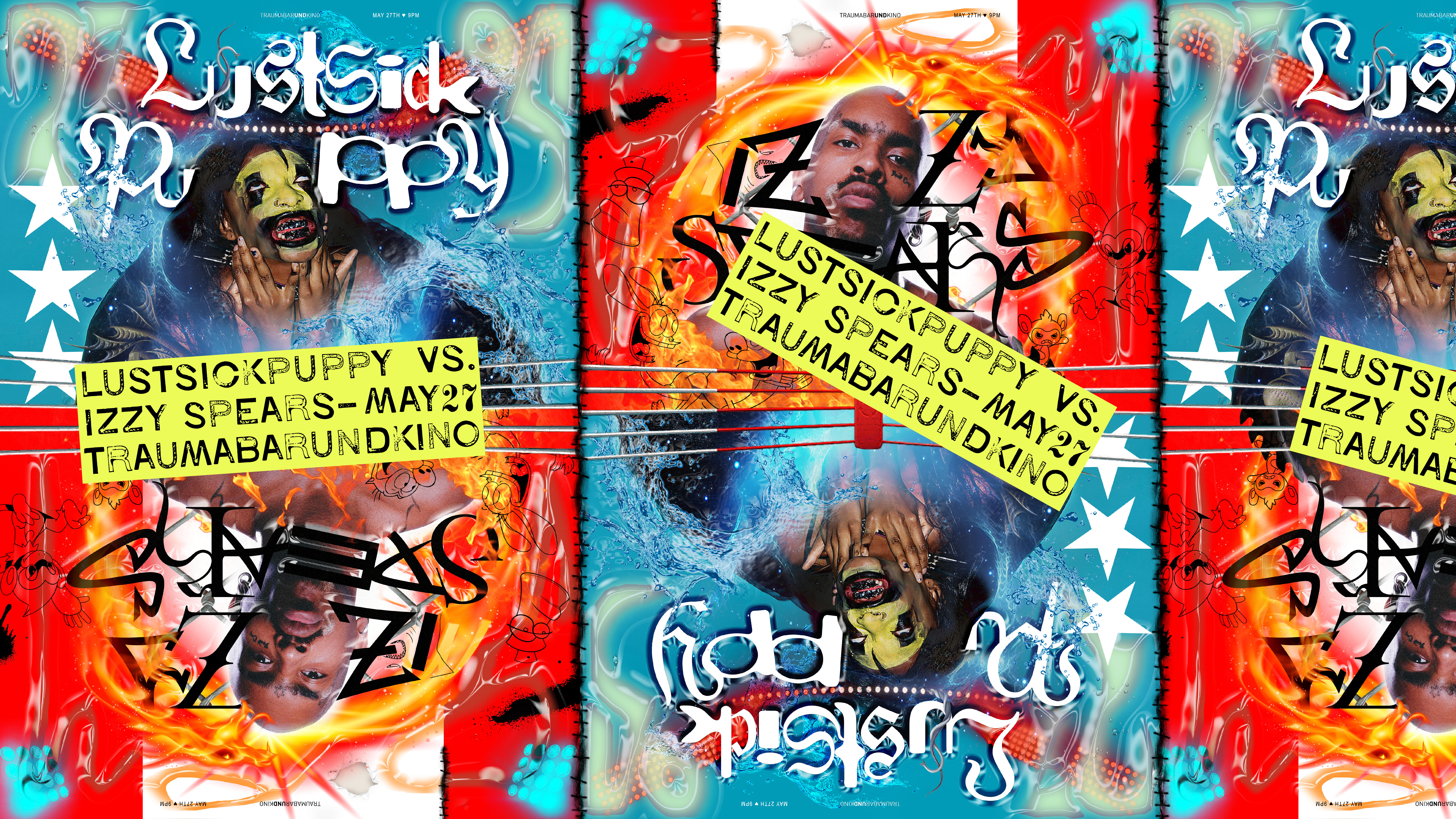 Flyer Design by Teresa Schönherr @schoenherr__
LUSTSICKPUPPY
Hailing from Brooklyn NY, LustSickPuppy is making music that stomps on the throat of monotony. Coming off her recent release 'RIDE IT' produced by Machine Girl, her live performances are both confessional and confrontational unleashing her self-proclaimed "shape-shifting sex canine from outer space".
IZZY SPEARS
Launching onto the scene with Anonymous Club in 2019, Izzy Spears is blowing up as LA's horror rap-star with his latest project 'MONSTAR'. Having toured with Yves Tumor over the last year, he's now back in Berlin with a squad of his own to perform his punk-rap bangers with no holds barred!
LEO LUCHINI
Berlin's very own dark romantic charmer, Leo Luchini will be debuting his highly-anticipated metal fusion project. Expect his signature moody production but with high-energy guitar performance and sultry vocals; a sound tapped in his recent single 'Look At You'.
BLK SLK (DJ SET)
To close the night we welcome Berlin-based experimental hardcore DJ and Producer BLK SLK, squeezing the last bit of energy out of you with aggressive, blood pumping, high-tempo sound-daggers for your ear-hole.
This will be the last event hosted inside TRAUMA UNCLOGGED and marks the closing of the installation by Anne de Vries.
Anne de Vries' latest art project TRAUMA UNCLOGGED is about the connections between clubbing and plumbing. Anne has dismantled and flushed our venue thoroughly before a drastic reconfiguration. We hope you appreciate this new and more open layout, as well as the events we have prepared to complement this unique setting.
If your personal situation doesn't allow you to afford a full-priced ticket, please contact us directly no later than 1 day before the event: reduced (at) traumabarundkino.de