Hearing Angels: Tony Njoku, Bulgarian Voices Berlin, Mario de Vega
5th November 2022
Part contemporary concert, part traditional choral ensemble and part sound intervention, this fleeting constellation of artists moves as one to manifest deep human connection.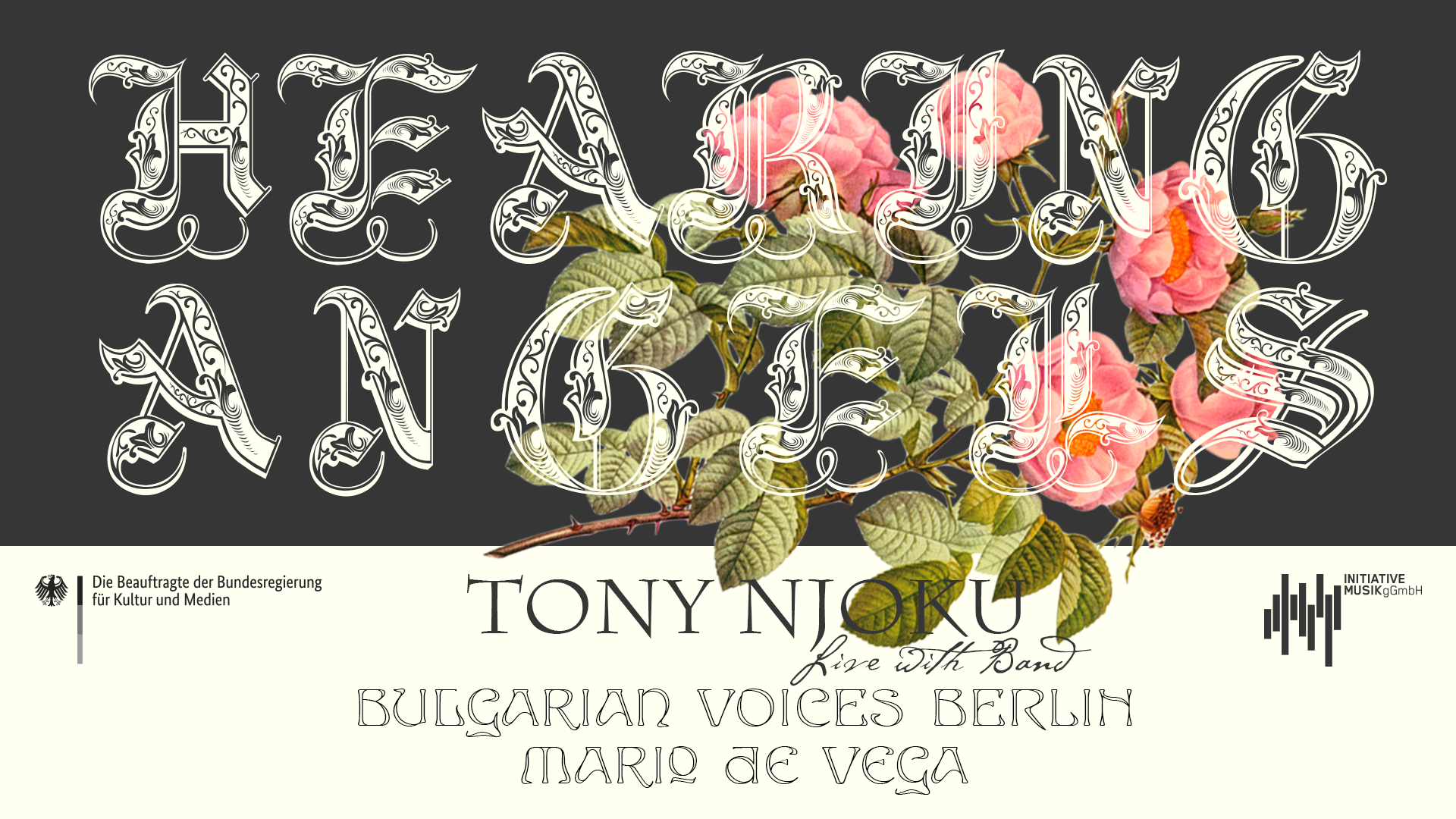 Expanding beyond disciplines, the program Hearing Angels seeks to unlock greater cathartic potential than the sum of its parts. The composition of this one-night event sheds light on the compatibility of contrasting cultural practices and gives rise to a brief and honest moment of symbiosis. From Tony Njoku's heart-melting falsetto with full band arrangements to the Bulgarian choir's emotive vocal harmonies in historical folk tradition to Mario De Vega's sound intervention, this fleeting constellation of artists moves as one to reach toward a common goal: to manifest deep human connection.
Tony Njoku
Tony Njoku is a British-Nigerian music producer and songwriter from London. Raised between Lagos and London, his self-penned and produced songs create a striking panorama of evocative sound. Tony is a magnificently versatile artist, demonstrating a unique mix of raw, vulnerable vocals and electronic mastery. For his Berlin debut, you can expect his signature multi-synth juggling and profound vocal sincerity, backed up by a band of multi-instrumentalists. Since summer 2022, Tony Njoku has formed a 4-piece band, who perform with an array of instruments including saxophone, drums, guitar, percussion and bass. His most recent EP Our New Bloom incorporates more instrumentation and breaths of airy falsetto melodies over sophisticated electronic sounds.
Tony Njoku – Lotus ft. Anna B Savage
Tony Njoku – Honey Love
Bulgarian Voices Berlin
Bulgarian Voices Berlin is a 13-piece multi-national female ensemble for traditional Bulgarian folklore singing, exploring authentic and contemporary arrangements and interpretations. Formed in 2009 under the lead of Boryana Velichkova, the choir has brought the Bulgarian folk song—with its captivating melodies and rhythms—to an international audience. In contrast to classical choirs, authentic Bulgarian singing leads with open vowels and frontal vocal delivery in a resonant chest voice as opposed to falsetto. When combined with semitonal harmonies, these tone clusters create potent waves of tension and resolution for the listener.
Bulgarian Voices Berlin singing in Preveza, Greece
Bulgarian Voices Berlin - Gel vido
Mario de Vega (b. 1979, Mexico City)
Mario de Vega's work includes site-specific sound interventions, sculpture, dramaturgy, publications and psychoacoustic phenomena that push the limits of audible perception. He has worked in the fields of sound and visual arts since the late 1990s. De Vega's work contemplates the physicality of listening and the materiality of sound, examining the aesthetic potential of unstable arrangements. His practice simultaneously delves deep into the boundaries of experience and consciousness, as well as the metaphysical susceptibility of systems, materials and individuals. He has been based in Berlin since 2008.
He has been a guest artist and lecturer at the following institutions, among others: Berlin University of the Arts, Rijksakademie Amsterdam, International Music Institute Darmstadt, Technical University Berlin, Ecole Nationale Supérieure des Beaux Arts de Paris, Centro de Diseño, Cine y Televisión, Kyushu University, Tama Art University, écal, University of Applied Arts Vienna and Harvestworks Digital Media Arts Center. De Vega's work has been exhibited in Europe, Mexico, North America, South Africa, China, India, Chile, South Korea, Russia and Japan. De Vega is currently a professor and head of the sound department at Kunsthochschule Kassel.
http://mariodevega.info
Mario de Vega artist bio
If your personal situation doesn't allow you to afford a full-priced ticket, please contact us directly: reduced (at) traumabarundkino.de
Gefördert von der Beauftragten der Bundesregierung für Kultur und Medien und der Initiative Musik
www.kulturstaatsministerin.de
www.initiative-musik.de