ХИМЕРИ
19th August 2022
ХИМЕРИ invites you to join the spiritual territories where unrealized hopes and dreams unite in a communal practice of singing.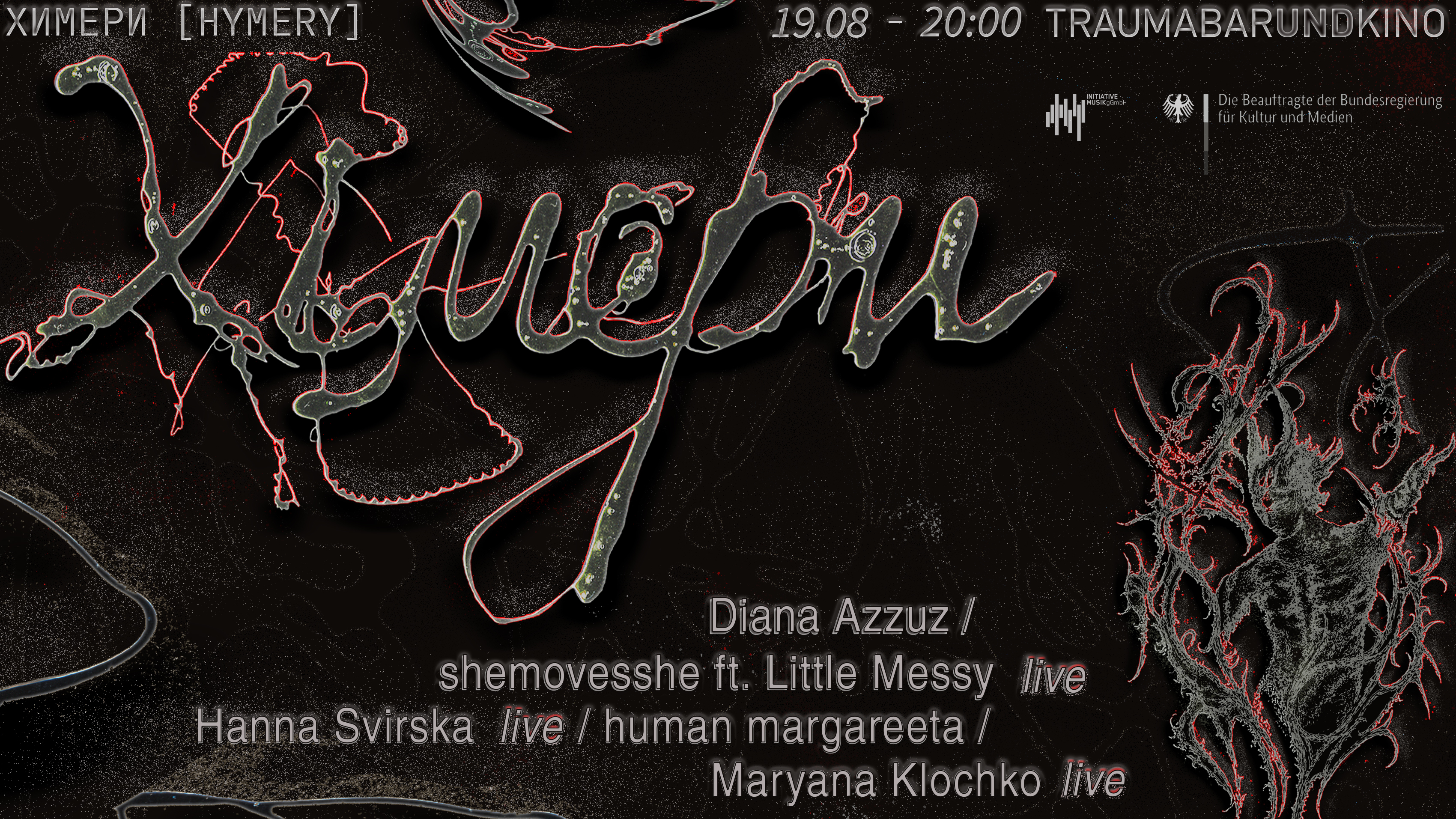 Flyer by Vitaliya Zhyriyakova
Traditional Ukrainian singing has come a long way through the centuries, having survived wars, occupations, repressions, and language bans. Despite the oppression that has been lasting for several centuries, the Ukrainian song has always been filled with mystery, beautiful mythology, spiritual power of faith and has inspired the people's spirit for a radical breakthrough.
Spanning past, present and future, the concert night ХИМЕРИ celebrates the diversity in voice and performance with a female-only line-up of contemporary Ukrainian vocalists and producers. Embracing trauma and pain in light of the ongoing war in Ukraine, they explore the different ways we seek refugee and empowerment through music and create a space anyone can move into and inhabit.
Lviv-born Kyiv-based musician Maryana Klochko brings a "hollow folk" touch with her pop vocals; Hanna Svirska carves beautiful new age and ambient soundscapes with experimental singing; Gael aka shemovesshe and Little Messy blend samples of traditional Ukrainian instruments such as trembita and torbana with poetry for their commissioned live project; human margareeta and Diana Azzuz support the concert with eclectic DJ sets.
Curation: Tanya Voytko
Art Direction: Vitaliya Zhyriyakova
25% of each ticket will be donated to the K41 Community Fund.
https://k41community.fund/
A project initiated by the team of the Kyiv based cultural institution ∄ with the aim to provide financial, humanitarian and logistical support to the musical and cultural community that has been facing life-threatening challenges since the beginning of the Russian invasion of Ukraine.
Diana Azzuz (1992) is an artist combining different media in her work. Her different background (Syria/Ukraine) manifests and has trails in every oeuvre she works on. Philosophy studies with her master's focusing on the social and cultural analysis of the concept of photography led her to a deeper interest in digital art.
She has always been keen on writing music, but it's only recently that she had her first project, Sui Noxa (2020), an audiovisual collaboration with her friend Rina Priduvalova, followed by a solo EP "Anastrophe" (2021) both released on Standard Deviation.
Both musically and visually, she explores the vibrant propagation of the notion of renascence on macro and microcosmic forms of being. Her work is characterized by meticulous investigations of self-articulation and self-manifestation within various forms of spaces.
https://soundcloud.com/dianaazzuz
https://www.instagram.com/dianaazzuz/
Gael (shemovesshe)
Gael is a DJ and a musician from Dagestan, previously based in Kyiv and Odesa, currently displaced in Berlin. Gael specializes in delivering remarkable energy, style, and attitude through the margins of techno and experimental electronics.
With the same specific artistic vision and imagination, the artist's profile extends to music scores production, art installations, and live performances under her alias shemovesshe. Gael was released on labels Standard Deviation, System, Topot, Meta Moto, Minor Adjustments, Kashev Tapes, and Radio Kapital, while her gig schedule has been replenished by appearances at Berghain, Oxi Club, Institut Fuer Zukunft, Mala Junta, СTM Festival and native ∄ where she is also holding a residency at a queer party ХІТЬ.
https://soundcloud.com/gaelabakarova
https://www.instagram.com/gael_abakarova/
human margareeta
human margareeta is a DJ, promoter, and electronic producer from Kyiv, currently displaced in Berlin. Being not only an artist but a cultural activist, she kicked off her career by organising numerous events dedicated to contemporary art, broken rhythms, and experimental music in Kyiv. She's one of the founders of GRVGRV collective where she was mostly active from 2019 to 2021. human margareeta crafted her style swiftly, and ever since collapsing walls, boundaries, and notions of club culture.
Now, as an asylum seeker, the artist has been continuing to spread compelling narratives on the dance floors and beyond. First, through shaking well-regarded clubs like Otel and Keller in Kyiv, Yu Yu and Radio Bar in Mexico, Oxi Club, Aeden in Berlin, Mjut in Leipzig, and Fuchsbau Festival in Lehrte to name a few. And, secondly, through media activity aimed at building awareness about russia's war in Ukraine and journalistic practice as a Kyiv city manager at Resident Advisor.
https://soundcloud.com/human-margareeta
https://www.instagram.com/margaree.ta/
Maryana Klochko
Maryana Klochko is an electronic producer, live artist, score producer and vocalist from Lviv currently based in Kyiv. She explores the connection with the «inner self», expressing it through voice, lyrics, and sounds. Her music brings to mind a state where there is no space and no time. The experimental pop, fragile, insightful vocals are a detachment in a moment of immediate presence.
https://soundcloud.com/maryana-klochko/tracks
inst @prizvyshche
Hanna Svirska
Hanna Svirska is an electronic artist based in Kyiv, Ukraine. Her career started in Tunelilisu duo in 2018 (Electronica, Downtempo). The debut solo single "Save Yourself" was released in late spring of 2021 and had a great response from Ukrainian and foreign media. Ukrainian label "SYSTEM" ("CИСТЕМА"), released her first EP "Shepit" in the end of 2021. Hanna collaborated with several charity projects, such as "SESTRO" by SYSTEM and fundraising mixed compilation "UKRAЇNSKA EPIKA" by Pavlo Horelic (Pavel Plastikk) which was broadcasted on NTS Radio.
Her last EP "Echo" was released this summer. Hanna's music is a combination of an old ambient and new age with contemporary electronica. It is an experiment with textures, sampler synthesis and vocal loops.
https://soundcloud.com/hanna_svirska
https://www.instagram.com/hanna_svirska/
Gefördert von der Beauftragten der Bundesregierung für Kultur und Medien und der Initiative Musik
www.kulturstaatsministerin.de
www.initiative-musik.de